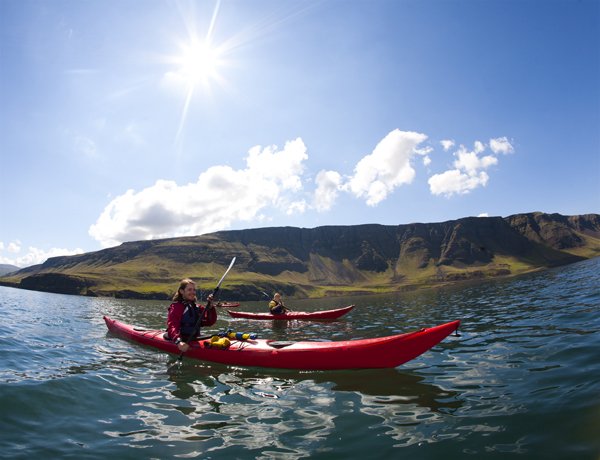 About our Mission
Seakayak Iceland byggir á reynslu sem það hefur aflað sér í rekstri sínum frá árinu 2000. Framan af hét fyrirtækið Sagan kayakferðir en breytti nafninu árið 2005 í Seakayak Iceland. Við höfum leitað okkur þekkingar og reynslu víðsvegar að úr heiminum og þó við leitumst við að vera færir kayakræðarar þá gleymum við ekki hvernig það er að vera byrjandi og vinnum samkvæmt því. Seakayak Iceland builds on years of experience wich it has gained through its running course since the year 2000. The first year it was called Sagan kayaktours but the name changed into Seakayak Iceland in 2005 We have sought knowledge and exeperience anywhere we can find it in the kayaking world and even though we seek to become able paddlers we do not forget how it is to be a beginner and we conduct our work in accordance to that.  
Þorsteinn Sigurlaugsson ( Steini ), BCU 5star sea, coach level 2 sea Steini er stofnandi Seakayak Iceland og hefur áralanga reynslu af sjókayak leiðsögn og kennslu á Íslandi. Ástríða hans fyrir náttúru og sjókayak er það sem heldur honum gangandi og gleðin við að kenna allt sem hann kann og læra meira er það sem gerir hann að góðum leiðsögumanni og kennara. Þorsteinn Sigurlaugsson ( Steini ), BCU 5star sea, coach level 2 sea. Steini is the founder of Seakayak Iceland and has years of experience guiding and coaching seakayak groups in Iceland. His passion for kayaking and nature is his drive and his love for sharing everything he knows and lerning more is what makes him a good guide and coach.
Variety of Courses
Seakayak Iceland býður uppá kayak námskeið jafnt fyrir byrjendur sem harnaða ræðara.  Steini hefur numið kayak kennslu í Wales og Bandaríkjunum og hefur mikla reynslu af að kenna byrjendum og lengra komnum á kayak. Við fáum einig til okkar þekkta erlenda kennara sem sumir geta verið prófdómarar og kennarar í staðla kerfi British Canoe Union auk þess að vera reynslu bankar og kayak kennarar af lífi og sál.  
Seakayak Iceland offers kayak courses for beginners as well as the intermediate and adavanced kayaker. Steini has gone to Wales and USA to get leadership awards and coaching courses and has years of experience in teaching beginners and intermediate kayakers. We also offer guest coaches from around the world. Some who can coach and access according to the BCU system as well as carrying a bulk of experience and live for kayaking.
New Location
Við erum flutt Seakayak Iceland starfar nú frá Egilsstöðum og Reykjavík auk þess að vera með ferðir á Breiðafirði, Jökulfjörðum, Hornströndum, Grænlandi og Miðjarðarhafinu svo eitthvað sé nefnt. Við bjóðum enn uppá metnaðarfullar sjókayak ferðir og námskeið af öllum stærðum og gerðum auk þess að bæði selja og leigja búnað. Upplýsingarnar á þessari síðu eru ekki alveg komnar í samt lag eftir flutningana þannig að ekki hika við að hafa samband með tölvupósti eða símleiðis, við tökum öllum fyrirspurnum vel og svörum öllum fljótt og vel. Síða þessi er bæði á Ensku og Íslensku en allt Íslenskt efni er með svörtu letri og Enskt með bláu letri.
We have moved Seakayak Iceland now operates from the town of Egilsstaðir. We give courses in Reykjavík and also run trips on Breiðafjörður, Jökulfirðir ( Glaciar fiords ), Hornstrandir on the western fiords, Greenland, Mediterranien and more locations. We are ambitious to deliver seakayak trips and courses of an high standard suitable for each and every individual, along with outfitting and selling kayak equipment online. Some of the information on this website may be out dated due to the big changes in our location but please be in touch with ust if you have any questions Pleas note that this website is in both English and Icelandic and all English text is blue and Icelandic in black.